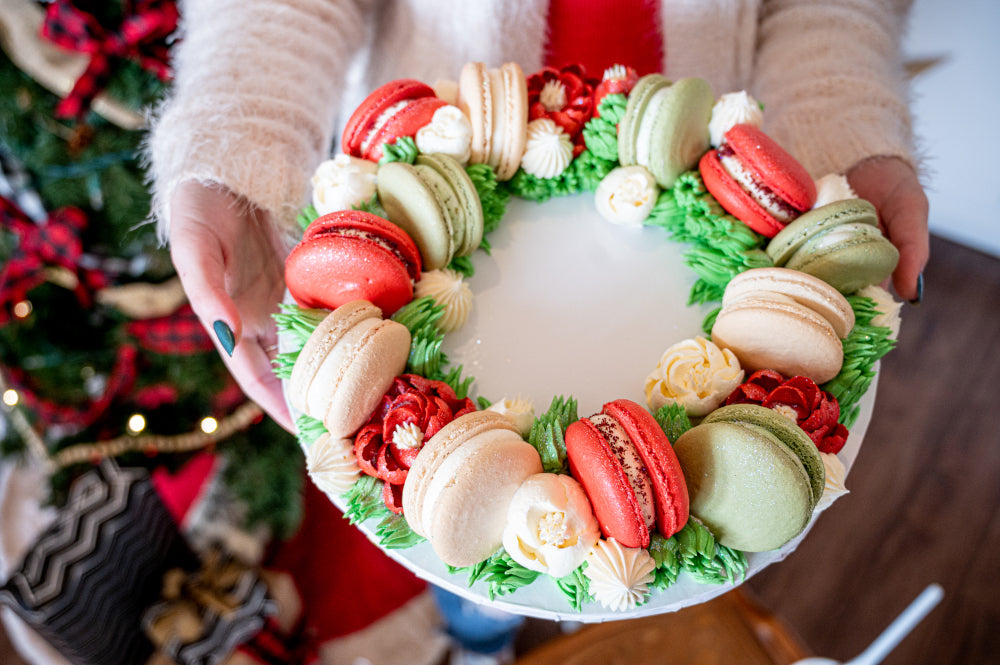 Holiday Macaron Wreath(Regular and Gluten Free option)
Choose from our Macaron menu below and have us create this special Festive Macaron Wreath for you!
THIS CAN BE MADE GLUTEN FREE BY REQUESTING GLUTEN FREE MACARONS
Enter no more than 4 flavor choices in the notes section of the cart or just say "assorted" and we will pick them for you.
We can pipe message in the middle perfect for your celebration.
Macaron Menu:
White Chocolate peppermint(red and white swirl), Ralphie's fudge(pink shell), *Christmas sugar cookie dough(tan shell), *Gingerbread Cookie butter(light brown shell), Raspberry(pink shell), Almond(tan shell), Salted Caramel(tan speckle shell), Chocolate(brown shell), Vanilla(blue) *Red Velvet(red shell)
Please specify if the macarons need to be Gluten Free- *indicates the flavors that are not Gluten Free
•All online Macaron orders must be placed at least 5 days in advance.
If your order is placed and we are unable to fulfill it, we will refund your order in full. 
• All items must be refrigerated. We do feel cakes and cupcakes are best served at room temperature.
•We do not ship cakes and/or cupcakes. You must pick up your order at the location you select during business hours. There is no option for delivery at this time. 
Hours:
We are open Christmas Eve Sunday 12/24 for cake pick up and last minute purchases at Eton, Solon and Strongsville 10-2. West Side Market will be open 10-3 for Ready to go purchases. Happy Holidays we love you guys!
Beachwood - Monday-Saturday 11:00am-6:00pm, CLOSED Sunday
(216) 514-2253
Solon - Monday-Saturday 12:00pm-6:00pm, CLOSED Sunday
(440)394-8049