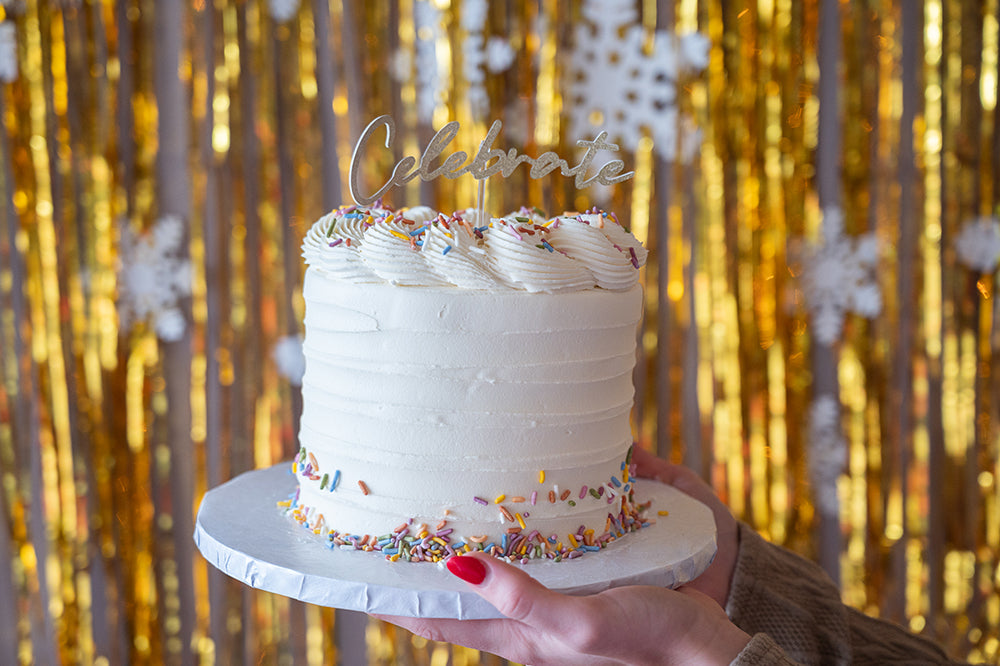 Vegan Celebration Sprinkle cake
We are so happy to offer this Vegan/Dairy Free festive cake design!
White or Chocolate Vegan Cake filled and frosted with Vegan Vanilla Buttercream
We are not able to write on the cakes or cake boards. Please use a topper to personalize  your cake.
•All online cake orders must be placed at least 5 days in advance.

If your order is placed and we are unable to fulfill it, we will refund your order in full. 
• All items must be refrigerated. We do feel cakes and cupcakes are best served at room temperature.
•We do not ship cakes and/or cupcakes. You must pick up your order at the location you select during business hours. There is no option for delivery at this time. 
Hours:
ETON Chagrin - Monday-Thursday 11:00am-6:00pm, Friday & Saturday 11:00am-7:00pm, CLOSED Sunday
(216) 514-2253
Solon - Monday-Friday 12:00pm-6:00pm, Saturday 10:00am-4:00pm, CLOSED Sunday
(440)394-8049
Strongsville - Tuesday-Friday 11:00pm-6:00pm, Saturday 10:00am-4:00pm, CLOSED Sunday and Monday
(440)638-4871